Don't Just Sell Trucks.
Sell Confidence.
Make Sure Your
Customers Are Covered.
We've Been Increasing the Value of Used Truck Inventories Since 1995
Thousands of used truck dealers all over North America choose Premium 2000+ as their aftermarket warranty partner because they trust Premium 2000+ to protect their customers' most vital asset, their truck, the second it leaves the lot. It doesn't matter if the truck has 400,000 or 700,000 miles on it. Nor if it's three or ten years old. The buyer is excited to have their "new" truck, and they're ready to put it to work for their business. Having the backing of a warranty brand that's been in business longer than anyone else gives the dealer and the customer confidence a breakdown that's covered by the warranty they buy will be covered.
Premium 2000+ offers a variety of aftermarket warranty programs that can be customized to meet the needs of your dealership and the needs of your customers. Premium 2000+ also offers additional programs and coverages that protect more than just the engine, aftertreatment system and critical components, ike our Comfort Package, which protects the radiator, heating/cooling and more.
Choosing Premium 2000+ as your warranty partner is a smart choice for you and your customers.
Watch Our New 2 Minute Video.
HAVING A WARRANTY IS KEY TO BEING A SUCCESSFUL OPERATOR
Geoff Stigler, Chief Commercial Officer, shares equipment repair costs on Arrow's Successful Driver podcast.
Wade Bontrager, CEO, shares his thoughts on Arrow Truck Sales podcast.
Keep Your Customers' Businesses Moving
Premium 2000+™ offers three warranty programs designed to meet every customer's need, from the most comprehensive to the most basic.
Our most comprehensive warranty program, offering NO LIMITS ON REPAIR COSTS for most major components, more comprehensive coverages on progressive damage and wearout. You won't find a better plan in the industry.
Just a step below the SUPREME program, but with generous limits of liability and more than 100 major components covered, it's our most popular warranty.
This program is the most basic coverage for engine, aftertreatment and critical components. It's the minimum coverage any truck owner should have to protect their business.
Major Repairs Can Cost You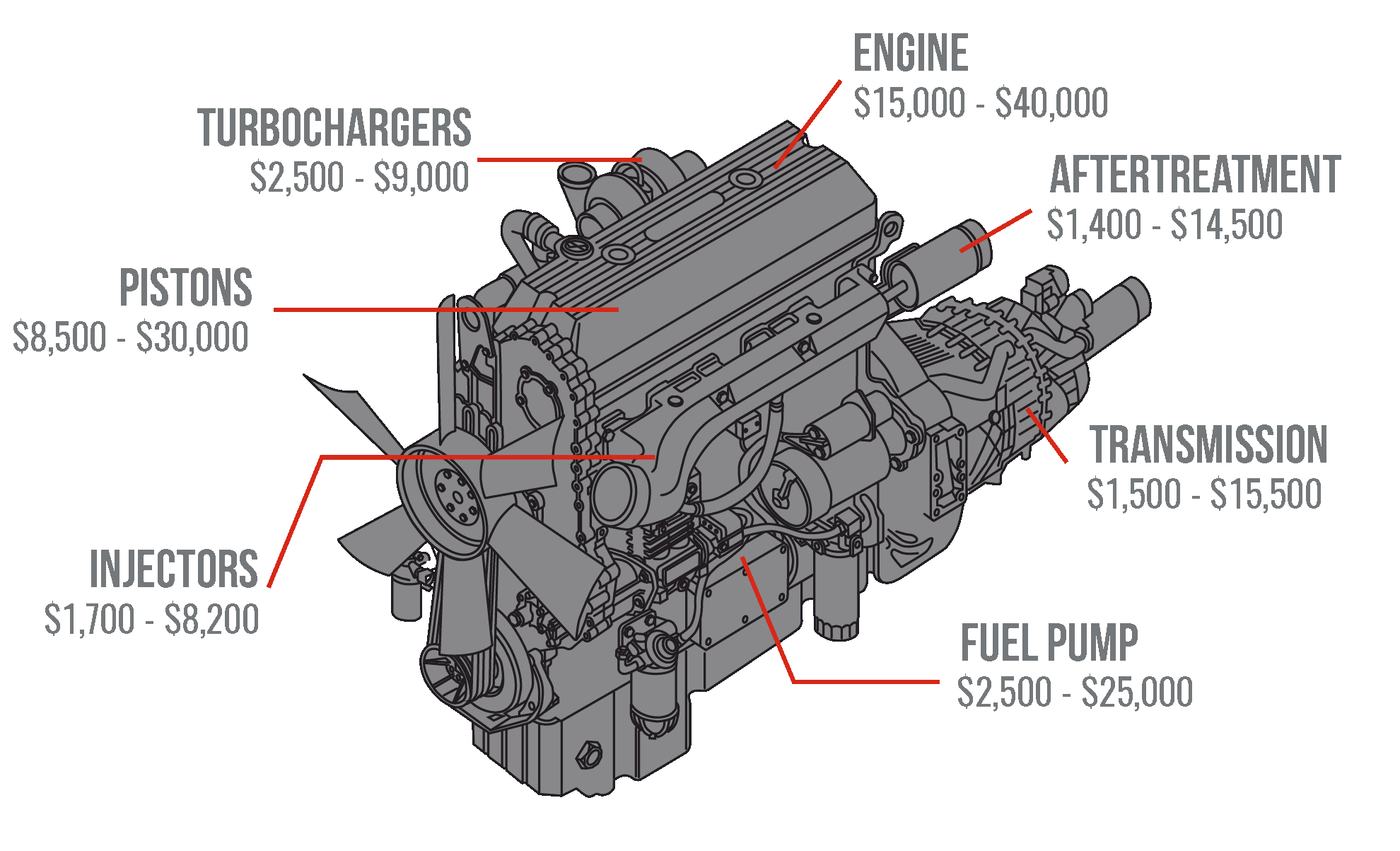 *Source: Actual claims paid by National Truck Protection Co. Inc. © 2022 NTP Co
Introducing A Rewards Program
For Dealers and Sales Reps
The Long Haul Partner Rewards program launched in 2019 with terrific feedback and participation. It's an exciting program that rewards our selling partners for their efforts, both at the dealership location level and for the selling reps. Dealers have the chance to win quarterly trips and, for those who achieve the strongest performance, a spot at the annual President's Trip. Sales reps earn reward points to trade in for a variety of merchandise, trips and services. To learn more, ask your Regional Sales Director.
For Our Current Selling Partners
We really appreciate all of our selling partners, and we're always available to help you with anything you need from sales materials to sales reps training. Just contact your Regional Sales Director, and remember to use your proprietary portal links and E-Dealer warranty tools.
Now Take The Next Step. It's Easy.
What Customers Say About
The #1 Best-Selling Warranty Brand
"The process was simple and smooth. Awesome warranty company."
"Thanks for the fast response, and covering the items in my warranty plan. Premium 2000+ is very fast and understanding the importance of getting you back on the road. Just follow the instructions that they provide, and you will have no problem. Thanks again!"
"The warranty I bought from them was excellent they paid all my repairs! One occasion I paid for the repair out of my pocket to get on the road ! Contacted them the next work day and they reimburse me !"
It's Not If. It's When.
So Why Drive Unprotected?